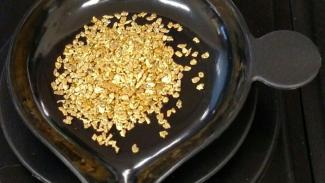 There's Gold in Them There Hills!
I was originally drawn to a career in investments with the idea I could outsmart the market. After all, CNBC was a staple in my dorm room during my college years. It was exciting to analyze the stock tickers as they scrolled by. I thought of each stock as a different opportunity to attain wealth. I was convinced I could find the winners and avoid the losers. I had little concept of risk and no inkling the impact ignoring it could have on future wealth.
I was starting out in the industry at a very exciting time. The internet was coming to fruition. Families were starting to ditch dial-up modems for broadband connections.  AOL was still letting us know "You've Got Mail!". Web pages would load before your eyes in a flash allowing information, both good and bad, to spread to the world instantly.
Every morning, headlines touted the Internet's next greatest thing. It seemed like gold was waiting to be discovered. I then realized what it must have felt like to be a gold miner heading for the Klondike. I could hear the voices saying, "There's gold in them there hills!" All I had to do was get my tools and head for the Klondike, and that is exactly what I did. I chose a brokerage that could supply me with tools and proceeded to stake my claim. The excitement of prospecting for quick and easy wealth clouded the voice of reason I heard saying, "Fools gold!"
My first few years my focus were primarily on individual stock selection. It was a great time to sell equities. Companies weren't required to have earnings. Loose associations to the Internet could propel companies overnight into market darlings.
I remember the excitement of CNBC announcers when NASDAQ hit 5000 for the first time. This event was celebrated with a NASDAQ 5000 television special. Announcers expounded on the "new economy" and how old metrics of company value were no longer valid. My excitement for the market was reaffirmed daily. The market really was full of gold!  I found myself picking winner after winner.  It was easy to ignore that everyone was picking winners. 
I was proud of assisting clients with stock selection. I felt personally responsible for their portfolios, including the substantial returns they were earning on their equities. It wasn't until several years later that I understood the implications of investment management without the foundation of financial planning. It's easy to accept kudos when things are going well. On the other hand, learning how to deal with adversity when the markets are down is a humbling experience.
As we have learned time and again, markets don't always go up. At this time, I learned the markets have two emotions, greed and fear. The tech boom, greed, gave way to the tech wreck, fear. This happened in the blink of an eye. It became evident that my performance in stock selection was moreover a function of market movement rather than finding market inefficiencies. Markets began handing out tremendous servings of humble pie, often on a daily basis. The NASDAQ, which recently hit 5000, was eventually reduced to sub 1200. The NASDAQ wouldn't see 5000 again until 2015.
I now look back fondly at this time as a badge of honor. Many investment careers were lost during this era. These experiences helped me reexamine what it meant to be in the financial industry. I developed a much greater appreciation for how and why I wanted to be a part of wealth management. It no longer was about searching for gold. It was about making a positive impact on others and supporting their ability to attain lifetime wealth that met their goals with an appropriate level of risk. I knew I wanted to spend the rest of my career helping individuals and families make prudent, intentional, and impactful decisions in their financial lives.
I am ecstatic to continue fulfilling my life's ambition to help others at Pitzl Financial. I was drawn to Pitzl Financial by their commitment to creating holistic financial plans acting as a fiduciary and their use of evidence-based investment strategies. Pitzl Financial has proven to be a great fit for me. I consider myself very fortunate to be doing what I love in a meaningful and impactful way. I am honored to work among professionals who embody the same vision and values paramount in my life. I look forward to working with new and existing clients while maintaining the high standards at Pitzl Financial.