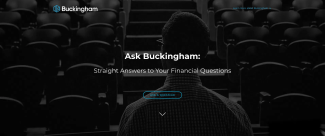 New "Ask Buckingham" Video Series on Current State of Markets
Our back office partner, Buckingham (better known to you as BAM), recently launched a video series called "Ask Buckingham" to address common questions and concerns about the state of financial markets.
Through conversations with members of the Buckingham Investment Policy Committee and research team, this series seeks to give some perspective on the current state of things, historical context around prior crashes, why having plans before and during a crash is so important, and the behavioral challenges market crashes present us with.
The esteemed voices and perspectives thus far include:
Larry Swedroe – Buckingham's Director of Research, author and co-author of over a dozen books on investing and markets.
Kevin Grogan – Buckingham's Director of Investment Strategy.
Dr. Meir Statman – world renowned researcher and professor in the realm of behavioral finance.
Jeff Levine – one of the foremost experts on the newly passed CARES Act, discussing the various stimulus programs and how they impact you.
For those continuing to search for additional content and perspective, this series is a great resource to tap into: https://askbuckingham.com/